Forty names, games, teams and minutiae making news in men's college basketball, where those who witnessed Tennessee 46, Auburn 43, may never recover:
FIRST HALF: When College Coaches Become Emperors
Second half
First time in a long time
Across the land, there are teams at the top of conference standings who aren't accustomed to being there—at least being there at the end of the season. As of Monday morning, at least 18 teams that were in first place all alone or tied for first are trying to win their first regular-season league titles in a decade or more. A partial Dash list:
Clemson (21). The conference: ACC. Last time Clemson won it: 1990. The standings: The Tigers (10–3) have a half-game lead on Virginia and Pittsburgh. The chances of it happening: not good.
Clemson met reality last week, losing to Boston College and Miami in succession. A modestly talented but hardworking team has thrived in a yucky ACC, starting 7–0 with wins against many of the lesser teams in the league. Next up is a Saturday trip to Chapel Hill, where Clemson has a ghastly 1–59 record (on the bright side, that lone victory was in its last game at North Carolina, in 2020). The Tigers have four good chances to win remaining (Florida State, at Louisville, Syracuse and Notre Dame), but to win the league will probably need to take one or more difficult road games (at UNC, North Carolina State and Virginia).
Expected league winner: Virginia.
Texas (22). The conference: Big 12. Last time Texas won it: 2008. The standings: The Longhorns (8–2 heading into a Monday-night game at Kansas) have a one-game lead on Iowa State. Chances of it happening: pretty good.
Texas is finishing a four-game, nine-day grind of road battles with Tennessee, Kansas State and Kansas, plus a home game against Baylor. The schedule lightens up a little bit—nothing is truly light in the Big 12—with three of the next four at home, where the Horns are 13–1. New Mexico State transfer Sir'Jabari Rice has upped his performance during this recent stretch, and big man Christian Bishop had his best game of the season in the comeback at Kansas State. The Horns' maturity is showing, with one of the most experienced rosters in the sport able to withstand the twice-a-week grind of the Big 12.
Expected league winner: Texas.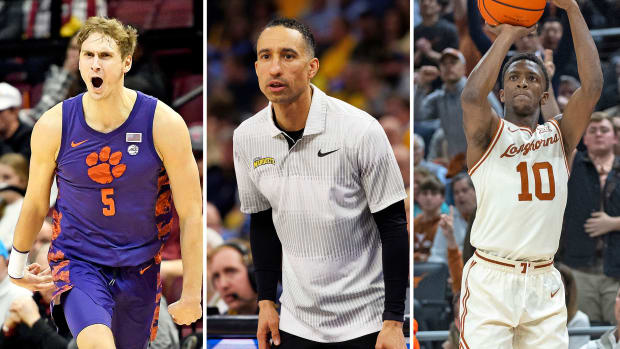 Marquette (23). The conference: Big East. Last time Marquette won it: 2013, sharing the title with Louisville and Georgetown. The standings: The Golden Eagles are tied for first with Xavier at 11–2, 1½ games ahead of Creighton and Providence. Chances of it happening: 50-50.
Marquette has a 19–5 record, with all five losses by five points or fewer. Point guard Tyler Kolek is the mix master for a fast attack that is shooting 60.4% inside the arc, best in the nation. Three remaining games should decide who wins the league: at Connecticut on Tuesday, Xavier at home Feb. 15 and at resurgent Creighton on Feb. 21.
Expected league winner: Marquette, if the Eagles can avoid last year's late fade.
UCLA (24). The conference: Pac-12. Last time UCLA won it: 2013. The standings: The Bruins (10–2) have a half-game lead on Arizona. Chances of it happening: Let's say 45%.
Hard to believe, but the Bruins haven't won the Pac-12 regular-season title since Ben Howland was the coach. This year's race could come down to the last day of the regular season, when Arizona visits Pauley Pavilion. But first UCLA might have to take care of business at Oregon this weekend, where it has lost three straight. Mick Cronin's veteran cast excels at the defensive end, forcing turnovers and blocking shots; can the Bruins find enough offense?
Expected league winner: Arizona.
Other league leaders whose trophy cases haven't been added to since last century (25): Samford, Howard, Maryland-Eastern Shore.
Samford is in a three-way tie atop the Southern Conference at 10–2, alongside Furman and UNC Greensboro. The Bulldogs haven't won their regular-season league title since 1999, when they were in the Trans America Conference.
UMES and Howard are deadlocked atop the MEAC at 6–1, and if either of them wins it will be momentous. Howard has no league titles since 1992, and UMES's title drought dates all the way to '74.
And the Never Evers (26): Youngstown State and Kennesaw State.
The Penguins (11–3) lead the Horizon League by a half game over Milwaukee and a game over Northern Kentucky—they've never won their conference or played in the NCAA tournament since moving up to Division I in 1981. In fact, they've never finished better than fourth in their league in that time. Salute to coach Jerrod Calhoun for this breakthrough season.
Kennesaw State is tied with Liberty at 10–2 atop the Atlantic Sun, which is fairly incredible when you consider that the Owls have never even had a winning season (overall or in league play) since moving up to Division I in 2006. Coach Amir Abdur-Rahim has made steady progress, from one win in '20 to five in '21, 13 last year and now 18 and counting this year. A home game against Liberty on Feb. 16 could decide the A-Sun race.
Successful second acts
Coaches who were pushed (or jumped) out of a good job and have landed quite nicely in a new and more comfortable gig—some more recently than others.
Shaka Smart (27). Old job: Texas. Current job: second season at Marquette. Status: As noted above, the Golden Eagles are tied for first in the Big East. They also rank eighth nationally in Ken Pomeroy's metrics, 14th in the NCAA NET and 10th in the latest AP poll. Unless Marquette (19–5) collapses completely, this will be Smart's most wins in a season since he won 26 at VCU in 2015. (He never won more than 21 at Texas.) In an era of near-constant roster churn, Smart kept and developed many players from last year's young team and is reaping the benefits this season.
Sean Miller (28). Old job: Arizona. Current job: first season at Xavier. If Smart isn't the Big East Coach of the Year, then Miller is. After avoiding any sanctions from the IARP after the scandal at Arizona, Miller has rapidly rejuvenated the sliding Musketeers program. This is truly the case of Miller taking many of the same parts from the Travis Steele era and making them much better. He's molded a deadly three-point shooting team (40.4% accuracy) that shares the ball and plays with great pace. The challenge will be keeping the team afloat while leading rebounder and No. 2 scorer Zach Freemantle misses at least three more weeks with a foot injury.
Richard Pitino (29). Old job: Minnesota. Current job: second season at New Mexico. Thirty years ago, Rick Pitino and Jamal Mashburn combined to take Kentucky to its first Final Four in nine seasons. Today, their sons—Richard and Jamal Mashburn Jr.—are trying to take the Lobos (19–4, 6–4 in the Mountain West) to their first NCAA tournament in nine seasons. A road win over Saint Mary's on Nov. 30 continues to get stronger on the résumé; if New Mexico can avoid fading over the next eight games a bid should be in hand.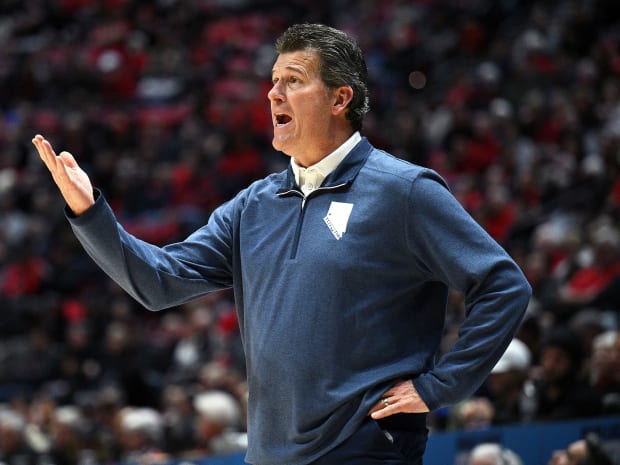 Steve Alford (30). Old job: UCLA. Current job: fourth season at Nevada. Alford was just kind of treading water for three seasons in Reno, with a record of 48–40, until this year. The key addition was Oregon State transfer guard Jarod Lucas, who leads the Wolf Pack in scoring (17.4 points) and minutes per game (34.8). Pitino and Alford play a big game against each other Tuesday in The Pit, a rematch of a wild, double-overtime win for Nevada in late January. The Pack is 12–0 in Reno but probably needs to pick up a couple of more road wins to solidify its NCAA standing.
Jeff Capel (31). Old jobs: Oklahoma, and Mike Krzyzewski's top assistant at Duke. Current job: fifth season at Pittsburgh. It took a while—until Capel almost ran out of time—but he's got the Panthers on track for their first winning season since 2016. The highlights: a season sweep of North Carolina, a win over Virginia and a handful of other victories over teams in or near the NCAA tourney bracket. Capel is riding a couple of brassy veteran guards in Jamarius Burton and Nelly Cummings, with some key interior play from thick Blake Hinson and long Federiko Federiko.
Andy Kennedy (32). Old job: Mississippi. Current job: third season at UAB. Fact is, Kennedy was Ole Miss's best coach of the last 20 years, but he resigned during a rare losing season in 2018 and then sat out of coaching for two seasons before relocating to UAB. He's got a 66–22 record with the Blazers, including an NCAA berth last year. This year's team has struggled a bit more shooting the ball but should again be dangerous at tournament time thanks to scoring machine Jordan "Jelly" Walker.
Monitor mania, continued
Last week, The Minutes addressed the increasing reliance on the replay monitor to make calls, and on officials tying themselves in knots while trying to adjudicate flagrant fouls. Then came the travesty that was Portland-Pepperdine (33) on Saturday.
It's hard to do the fiasco justice, but let's try. Portland was leading 92–89 in the second overtime when Pepperdine strangely drove to the hoop for a two-point basket by Jay Yoon with less than two seconds left. A borderline foul was called, giving Yoon the chance to tie the game. He missed the free throw, and then things got really strange.
Kristian Sjolund grabbed the rebound for Portland, and Pepperdine's Jalen Pitre went over his back for a bear-hug foul. That was whistled with 0.06 left, but Pitre kept hugging, to the point of excessiveness. Sjolund, exasperated, swung an elbow to get Pitre off him and—lo and behold!—a trip to the monitor ensued. So did a flagrant foul call that was a complete joke.
There were free throws both ways. Sjolund had fouled out on the flagrant call, so reserve Jack Perry went to the line and made one of two for a two-point Portland lead. Granted a second chance to tie the game at the line, Pepperdine again failed to convert, making one of two, but the Waves were rewarded the ball out of bounds off the flagrant foul. Mike Mitchell Jr. threw a lob to Jevon Porter, who flipped it in the basket, and Pepperdine won the game.
If Portland coach Shantay Legans (34) didn't personally drive to WCC offices to stage a protest out front, he's got more restraint than The Minutes. His team was ripped off. Pepperdine was rewarded for instigating a flagrant foul in the literal last second of a game it was going to lose. The WCC should bench that officiating crew for the rest of the season.
Stat of the week
The Minutes' favorite three-or-bust guard, Arizona's Kerr Kriisa (35), is at it again. In his last 16 games, Kriisa has made just five two-point shots on 21 attempts (23.8%). Meanwhile he's made 44 three-pointers in that same span on 122 attempts (36.1%). In coach Tommy Lloyd's well-defined offense, Kriisa is the distributor and primary three-bomber, with Courtney Ramey as a sidekick. Big men Ąžuolas Tubelis and Oumar Ballo do the work inside.
It's all humming efficiently for Arizona, which has the nation's No. 10 offense per Ken Pomeroy.
Roster of the week
Missouri (36) has rapidly rebounded from 21 losses in Cuonzo Martin's final season to 17 wins and counting in its first season under Dennis Gates (37). That's because Gates completely overhauled the roster, with one major exception.
Gates arrived from Cleveland State and brought three Horizon League players with him: DeAndre Gholston from Milwaukee, plus D'Moi Hodge and Tre Gomillion from his old roster. He snagged a pair of Missouri Valley transfers: Isiaih Mosley of Missouri State, who came home to Columbia; and Noah Carter of Northern Iowa. And he added well-traveled guards Sean East II and Nick Honor.
But most importantly, Gates has unlocked the full potential of holdover senior Kobe Brown, who is having a breakout season. Brown leads the Tigers in scoring (16.2 points per game) and rebounding (6.0) while shooting career highs overall (57.1%) and from three (44.1%).
Missouri has no bad losses and several noteworthy wins (Illinois, Kentucky, Arkansas, Iowa State), but starting the year with nine lollipop games at home reduces the Tigers' margin for at-large error. Regardless, Gates has done great work with his immediate makeover.
Coach who earned his comp car this week
Mike Woodson (38), Indiana. In his 58th game as the coach of the Hoosiers, Woodson picked up his signature win to date, taking down No. 1 Purdue. Woodson has built a confident supporting cast around his tremendous centerpiece Trayce Jackson-Davis, as the Hoosiers showed they were ready for the big stage of that game. Although Purdue center Zach Edey was again a powerful force, Woodson's swarming defense did manage to knock him off rhythm just enough while also covering the perimeter.
Predecessor Archie Miller had a major Purdue problem. Beating the Boilermakers two years in a row in Assembly Hall is a good way to improve an Indiana coach's approval rating.
Coach who should take the bus to work
Chris Holtmann (39), Ohio State. In a crash landing that was difficult to see coming, the Buckeyes have lost nine of their last 10 games to slip below .500 and out of NCAA at-large contention. Even in a difficult league, this has been a shocking slide for a team that hasn't had significant injury issues. Six of the last nine games have been on the road, so the schedule hasn't helped—but losing in Columbus to cellar-dwelling Minnesota on Jan. 12 was a sign of the slide to come.
Ohio State has five of the next seven at home, so maybe there is a chance for a rebound, but it will have to figure out how to win a close game. The Buckeyes are 1–6 in games decided by five points or fewer.
Buzzer beater
When thirsty in the basketball bedrock town of Chapel Hill, The Minutes, as always, recommends a visit to The Crunkleton (40), a cool lounge on Franklin Street. The vibe is excellent, and, the cocktails are as well. Order an elderflower sour, eat the cucumber strip that comes with it, and thank The Minutes later.